Description
AURORA ENLITE Bulkhead Wall Light
AURORA ENLITE bulkhead wall light is rated IP65 waterproof making it ideal to be apply on outdoor as it is protected from rain. Its simple stylish fitting could decorate the outdoor area of your house making it look more stylish and modern.  It has a beam angle up to 120 degrees enable it to light up the surrounding area of your house. 
The integrated driver in the bulkhead allows for a slim profile giving the light a sleek and stylish design look. The light can be used not only for domestic settings but for commercial and industrial use as well. With 20mm knockouts the bulkhead can be installed against walls as well as on ceilings with ease. The LED technology used in the bulkhead wall light makes the light cost effective and energy efficient with a lifespan of 25000 hours. 
Utilite™ is a powerful yet energy efficient alternative to standard bulkhead utility luminaires. Designed specifically for LED technology, their impact resistant polycarbonate housing up to IK06 rating provides a tough exterior making them ideal for all basic industrial, commercial and residential installations.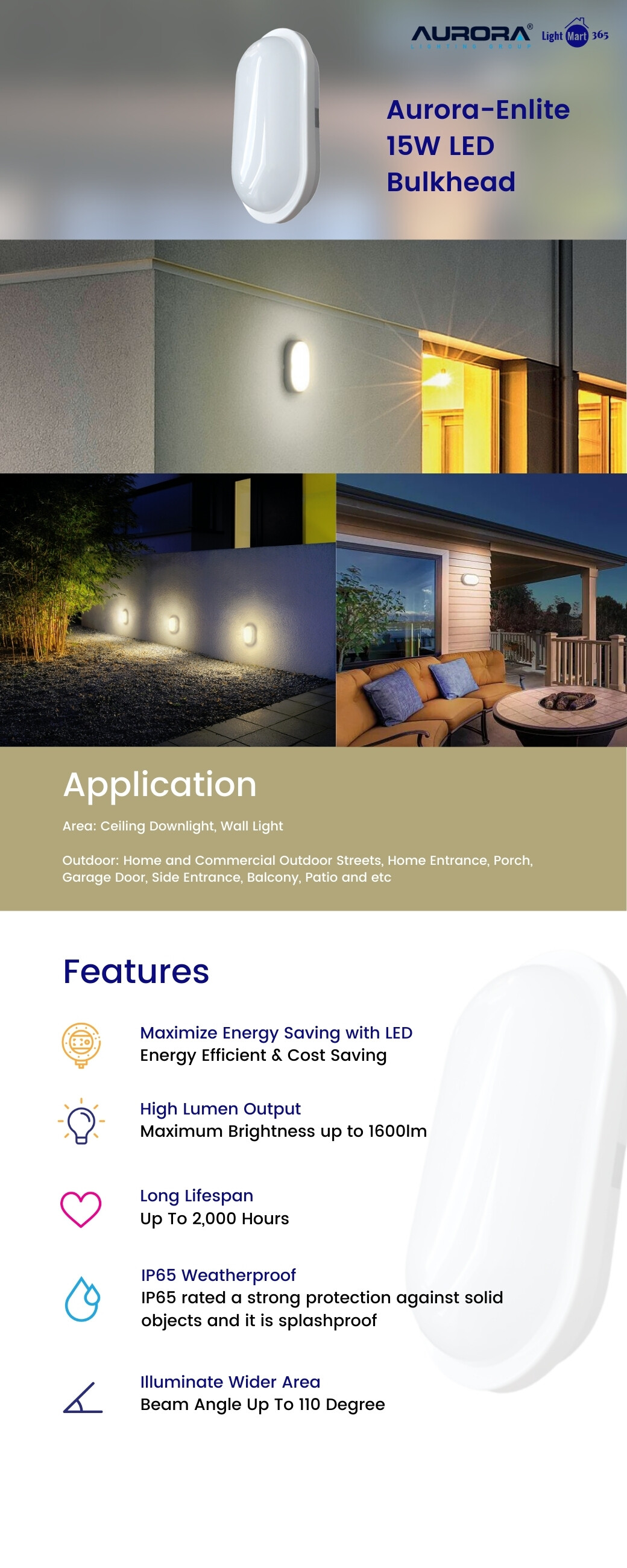 Impressive Statement Lighting Ideas for Every Taste
AURORA ENLITE | Bulkhead Wall Light 15W
Product Specifications:
Color: White
Product Shape: Oval
Material: Polycarbonate
Wattage: 15W
LED Color: 3000K (Warm White), 6000K (Daylight)
Lumen: 3000K = 1450lm, 6000K = 1600lm
LED Type: SMD
CRI: 80
Beam Angle: 120 Degrees
Input Voltage: 220 – 240V
Lens: Opal Diffuser
Driver: Integral Non-Dimmable LED Driver
Non-Dimmable
IP65 Rated
Dimension: 215mm (L) x 115mm (W) x 62mm (Depth)
Installation / Mounting: Wall Mounted / Ceiling Mounted
What's In the Box:
1 x AURORA ENLITE Bulkhead Wall Light
* Photo displayed is for illustration purposed only *
How long will it take to receive my order?
Orders will be shipped out within 3-5 working days after the order is placed. 

Pre-order items 

will be shipped out within 14-20 working days after the order is placed. 

Customization items 

will be shipped out within 4-6 weeks after the order is placed. 
How long is the warranty period? 
Each product purchased comes with a 12 month warranty. 
What is your 30 day money back guarantee?
Products are available for return and refund within 30 days after the product is received by buyer. Returned products cannot have been installed and must be in resalable condition and contain all original packaging.
Have Question? Ask An Expert
For further information, please refer to the FAQs.
Stay Informed and Save Big with Our Newsletter
Be the First to Know About Exclusive Deals, Insider Info, and More - Sign Up Now!